Other articles in this category
Beginners Guide to XML Sitemaps
An XML sitemap is a special file that search engines use when they crawl your site. This file is an essential part of SEO. The XML sitemap contains some important pieces of information that search engines need when crawling your site.
This guide walks you through the simple steps needed to create your XML sitemap and submit it to Google and Bing.
First, you want to make sure you have activated the XML Sitemap module in the Feature Manager.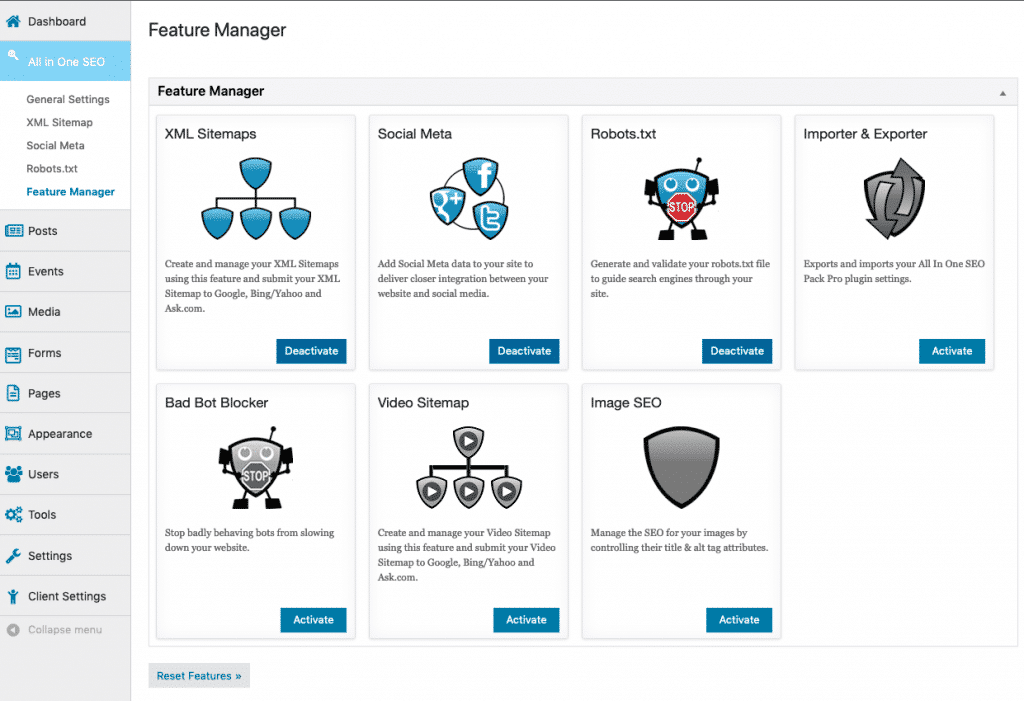 If the module is activated, you will see XML Sitemap listed under the All in One SEO menu. Click on this to configure the settings.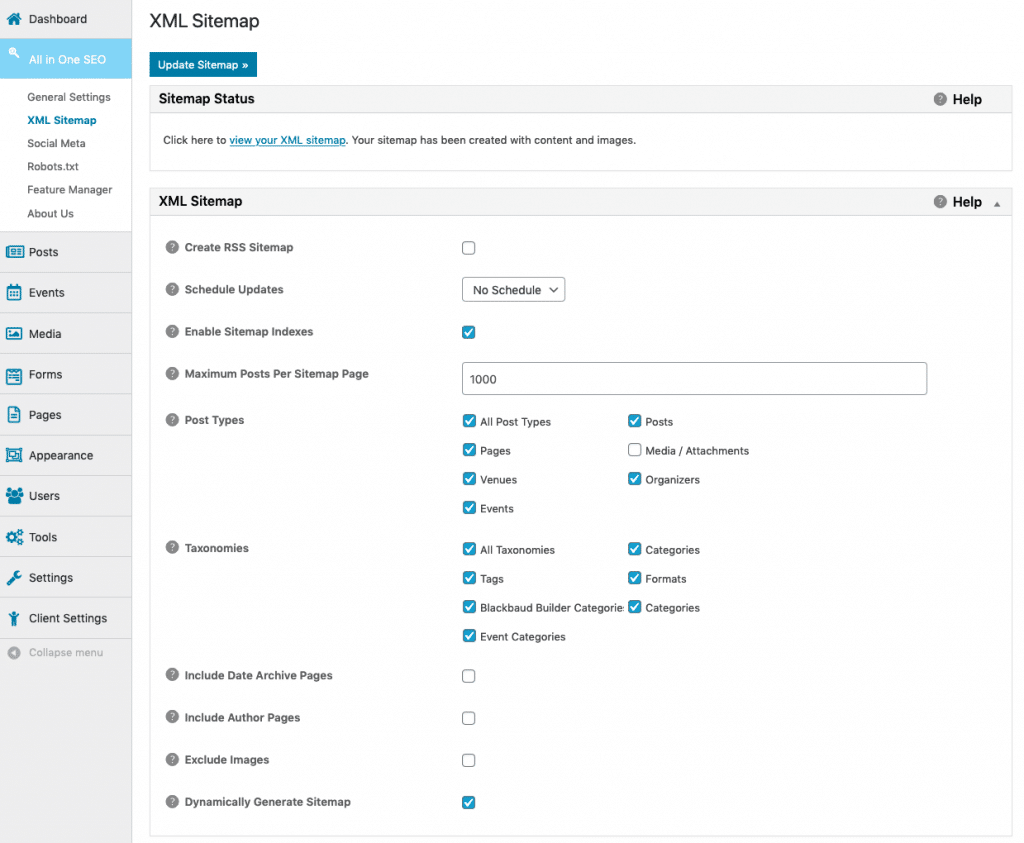 Now let's create our XML sitemap.
Schedule Updates
First, in the Schedule Updates drop down, select the schedule that best matches how often you update the content on your site. If you're not sure what to select then choose Weekly.
NOTE: All in One SEO Pack automatically notifies Google and Bing whenever you publish, update or delete content on your site.
Enable Sitemap Indexes
The next option is Enable Sitemap Indexes. We strongly recommend that you enable this option. The default setting of 1000 for Maximum Posts Per Sitemap Page is fine for most sites, however, if you have a large site or a site with lots of images then you may want to reduce this number to avoid problems. You can read more about this option in the Related Article.
Post Types / Taxonomies
The next two options are to do with the content on your site – Post Types and Taxonomies. Using the checkboxes here, you can choose which content you want included in your XML sitemap. Check the boxes next to the post types and taxonomies you want to include.
Include Date Archive Pages
If your site is a news website that has date archives then check the box to Include Date Archive Pages.
Include Author Pages
If you have a site where you have multiple authors with their own author pages then check the box to Include Author Pages.
Dynamically Generate Sitemap
Make sure that the Dynamically Generate Sitemap box is checked. This option will dynamically generate the XML sitemap each time it is requested by a search engine. It also means that there will not be an XML sitemap file on your server. This is the optimal option because it means that the XML sitemap is always up to date when it is requested, and there is no file that could get deleted or become corrupt or unreachable. Some older servers may not support this option so if you're having problems, try unchecking this box.
Finally, scroll to the top of the screen and click the Update Sitemap button. You have now created your XML sitemap. You can view it by clicking the "view your XML sitemap" link and your sitemap will open in a new tab. If you see a blank XML sitemap, don't panic, right click on screen and select View Page Source. You should now see the XML code for the sitemap.