Other articles in this category
Featured Venue Widget Settings
The Featured Venue widget shows off a specific saved venue in a sidebar and displays events happening at that venue. In this tutorial we'll cover the widget settings.
Add the Featured Venue Widget to a Sidebar
Head over to Appearance > Widgets from the site admin dashboard.
Drag the Events Featured Venue widget to any sidebar area and you're good to go.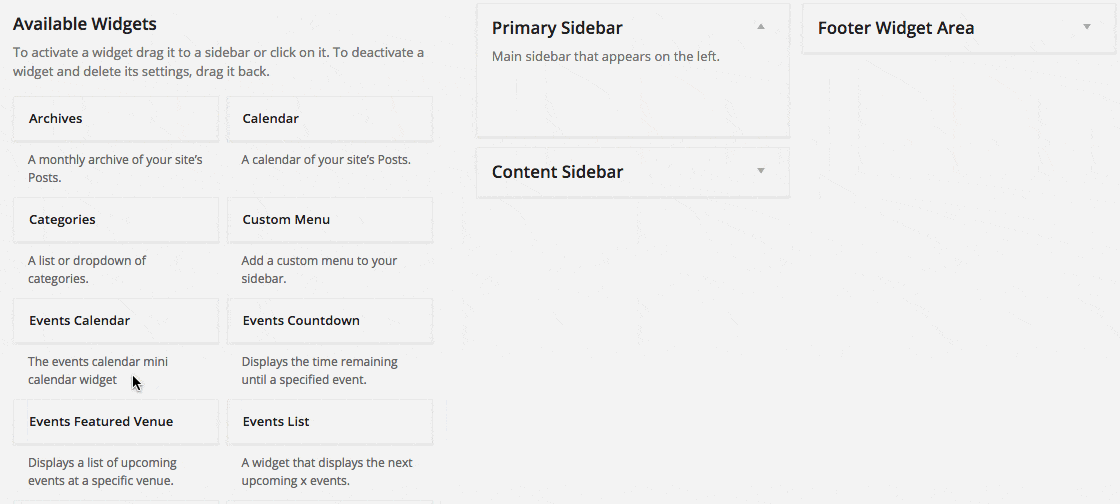 Now you can see the widget on the front end of our website. Here's how that looks: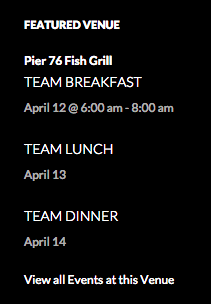 Featured Venue Widget Settings
There are a few settings available to help you tailor the widget to our needs. Let's go over those.
Title: This is the heading that sits above the widget. This is empty by default but, in the example above, we changed it to "Featured Venue."
Venue: This option allows you to select the venue to feature. All the saved venues that can be found in Events > Venues will be listed here and one can be selected per widget.
Number of events to show: This allows you to specify the maximum number of events to show in the widget at any given time. Three is the default, but the number can be any from one to ten.
Hide this widget if there are no upcoming events: If this option is selected, then the widget will automatically hide itself if there are no upcoming events for the selected venue. If the option is unselected, then the widget will continue to display, but a notice will display that there are no upcoming events.