Other articles in this category
Form Confirmations List Page
Listing
The Confirmation list page allows you to see all the confirmations for a particular form.
The list of confirmations may be sorted alphabetically by clicking on the "Name" column header.
Hovering over the confirmation name reveals the quick toolbar confirmation actions, each of which is described below: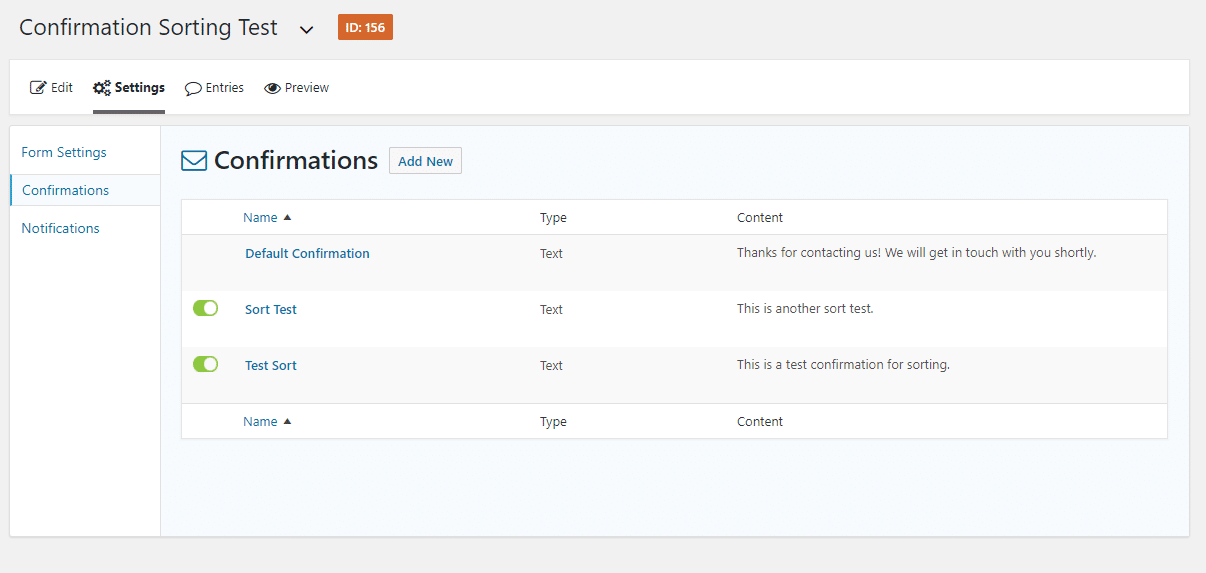 Quick Toolbar Actions
Active/Inactive
Active sets the current confirmation to use. Inactive means the confirmation is there but it is not currently in use.
Edit
Edit allows to make any modifications to your confirmations.
Duplicate
Duplicate will make a copy of that entire confirmation.
Delete
Deleting a confirmation permanently removes the confirmation. This cannot be undone.
Confirmation Columns
Name
This is the name of your confirmation. The list may be sorted alphabetically by clicking on the "Name" column header.
Type
There are multiple types of confirmations. The Text confirmation will produce text you have entered in that field. The Page type links to the related page you have specified. The Redirect will redirect you to the URL you have provided. See Confirmation Settings for more information on types.
Content
The content is the information that is included in the type you have specified. Ex: Type (redirect) Content (http://www.google.com)
Editing A Confirmation
For information on configuring a confirmation, refer to this help article.
Default Confirmation
A form needs to always process one confirmation, and therefore the Default Confirmation cannot be deleted, removed, or inactivated.
To display a custom confirmation message, you will need to edit the Default Confirmation or create a new confirmation with conditional logic enabled appropriately. The Default Confirmation will be used if the logic fails on all other confirmations.