Other articles in this category
How To Setup a Donation in WooCommerce
Collecting donations on your BBWP e-store powered by WooCommerce is a great way to raise funds for your organization.
The WC Donation  extension enables you to create fundraising campaigns with more than just the ability to collect simple donation payments. You can customize your donation campaign with features like  progress goals, round-up donations, and more.
Please note that the Recurring Donation feature is not an option in BBWP.
Adding a New Campaign:
Sign into your BBWP website
While in the admin view, locate the WC Donation tab in the left side menu
Click "Add New" to create a new campaign
Under the text "Add New Campaign", add a title
Campaign Settings Tab:
Select an Amount Type:

'Pre-Define' is a set of fixed values that you create
'Custom Value' will give the option to your customer to enter the amount that they wish to donate
'Both' will provide both of the above options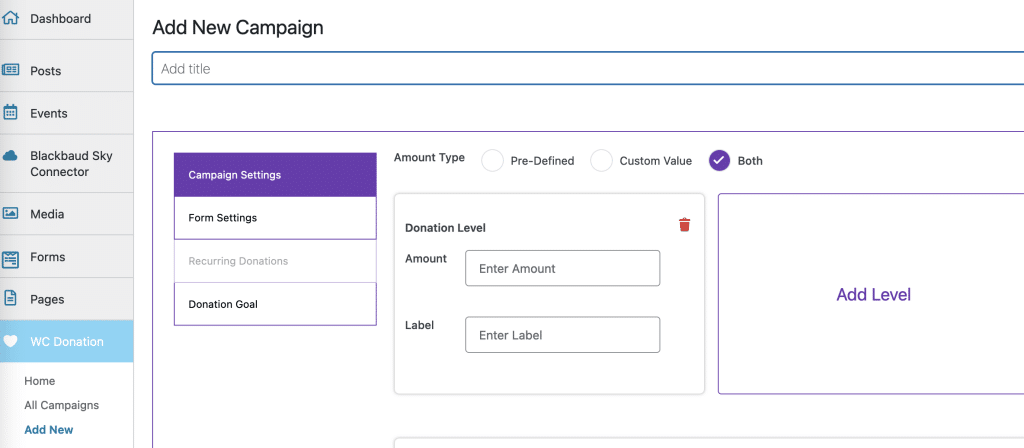 When using either the 'Pre-Defined', or 'Both' option, a Donation Level box will show. This is where you add the different donation values.
In the Amount field, enter a donation number. Whole numbers (5, 10, 25) are accepted along with decimal values (2.50, 5.00, 10.45)
Text entered in the Label field will display on the front end of the site.
Front-end View using 'Both' Amount Type


Click on 'Add level' to add additional donation amount options
Added levels can be deleted by clicking on trash icon at top right of each level
When using the 'Custom Value' option, donors can enter in any amount they want, as long as it falls between the Min Amount and Max Amount numbers that are set here
Note: If you choose not to set a Min Amount or a Max Amount, the system will automatically set the Min value to 0, and the Max value to 1000
Front-end View using 'Custom Value' Amount Type

Form Settings Tab
In this tab, you can manipulate the design and display of your donation options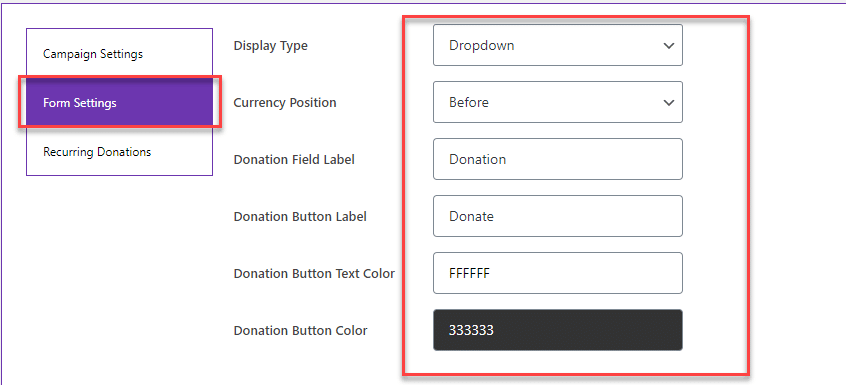 Display type gives the options of  'Dropdown', 'Radio Button', or 'Label' style. See below for examples of each.
Dropdown Style
Radio Button Style
Label Style
Currency Position will change the position of currency sign
Donation Button Text Color
General Settings
Go to WC Donations > General Settings
Enable both the 'Cart Donation' and 'Checkout Donation' options, to ensure that donation fields will appear in both locations
Select your new campaign from the dropdown list for both options.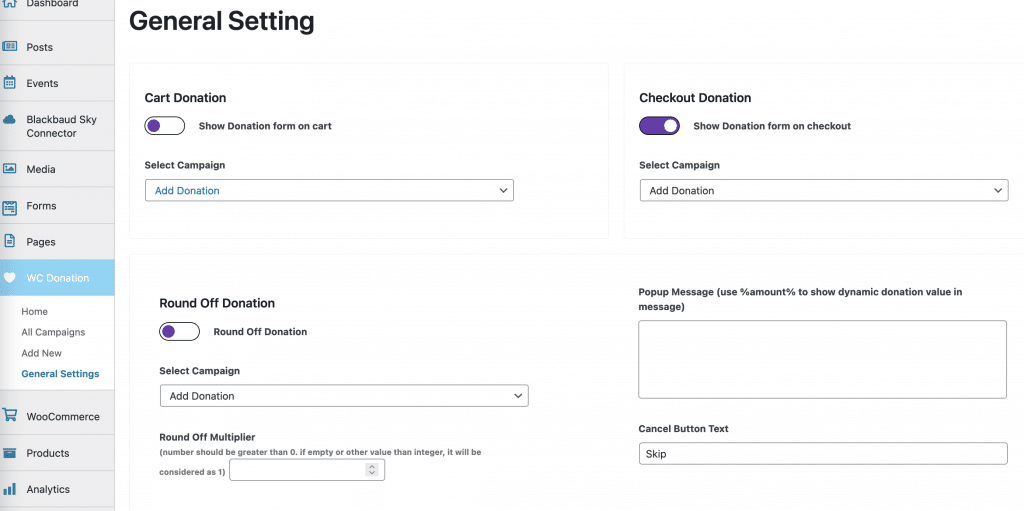 Round off Donation
Using this feature, visitors to your store can round off their final payment values that appear in decimal. Ex: If the final total of their cart at checkout is $25.76, a popup will appear suggesting a donation amount of .24  in order to round their payment up to an even $26.00. Users can skip this process if they don't want to round off the value
To enable this feature click the toggle under 'Round Off Donation'
Select a campaign for 'Round Off Donation'.
Note: Round Off campaigns must be different from checkout or cart donation campaigns, otherwise the transaction will not process.
Type the text that you want to display on the Round Off popup
Add the text you would like to use for a "Cancel" button
Round Off Multiplier
Note: If you do not wish to use this feature, just leave the field empty, and it will work as described above.
How it works: When checking out, the Round Off Multiplier looks at the cart and finds the nearest number that is divisible by our Multiplier.
Example:
Cart Total: 27.35
Round off multiplier : 8
After 27 the next number that is divisible by 8 is 32
We take 32 and subtract our cart total:
32 – 27.35 = 4.65
The donation amount will be $4.65.
Note: Round off will work only if your cart total is in decimal. if there are whole numbers in the cart and checkout page then round off functionality will ignore the whole numbers.