Other articles in this category
Mini Calendar Widget Settings
Adding the Events Calendar Widget to a Sidebar
Head over to Appearance → Widgets from the site admin dashboard. You're looking for a widget called Events Calendar.
See the Events Calendar widget? Drag it over to the sidebar widget area of your choice, then save your settings.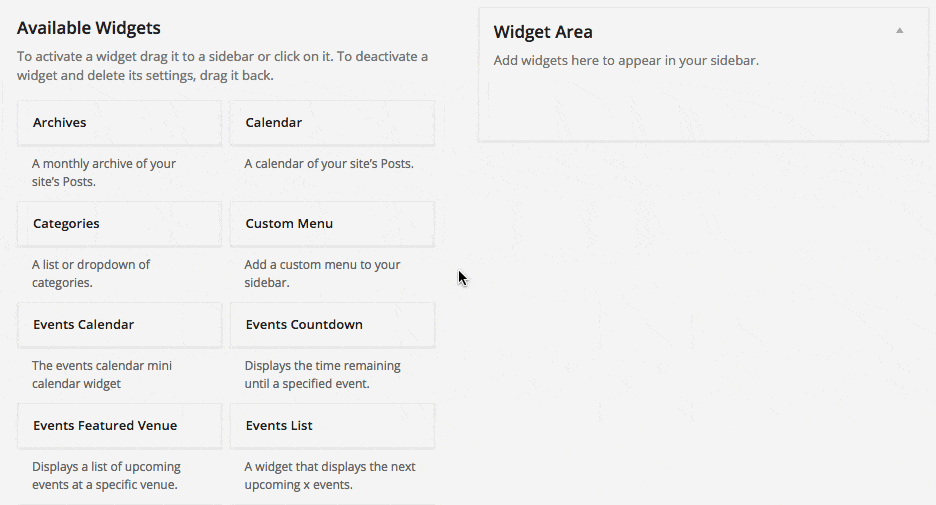 Now we can go to the front end of our website and see the Mini Calendar.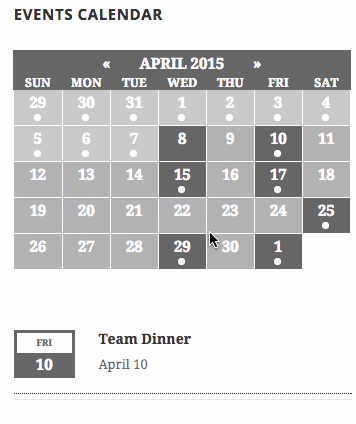 Events Calendar Widget Settings
First thing you might notice when adding the widget to the sidebar is that there are a few options that allow us to customize things a bit. These are the available options:
Title: This is the heading that sits above the widget on the front end of the site. By default, it is "Events Calendar," but can be changed to anything we'd like.
Number of Events to Show: This allows you to set the maximum number of events that display in the list below the calendar at any given time. By default, this is set to five, but can be any number between one and ten.
Add a filter: This option allows you to limit the events that display in the widget to certain categories and tags. Let's say we only want events categorized as Conference to display in the widget. Perfect, add a filter! How about Conferences and Workshops? Add two filters!
Embedding the Widget
Another awesome thing about the Events Calendar widget is that it can be embedded on any page or post outside of the sidebar. In other words, we can place it anywhere we want.
Embedding the widget can be as easy as pasting this shortcode into any page or post: [tribe_mini_calendar]
You can learn more on Events Calendar shortcodes in the Related Article.