Other articles in this category
Setup a Cookie Consent Banner with CookiePro
CookiePro Cookie Consent allows your organization to perform a complete discovery of the cookies, local storage, and tags that are currently being used on your website. This provides insight into the ways in which your organization is capturing a site visitor's personal information when they browse your site – a key requirement under GDPR.
Your team can use this information to build a cookie banner and preference center that allow site visitors to directly control which categories of cookies can capture and process their information.
Please refer to the full Guide by CookiePro located here to go through the initial setup and implementation of Cookie Consent. You will be able to create a Cookie Banner, Preference Center, and Cookie List and configure them for specific legal frameworks. These elements can then be tested and placed on your website.
Once you have published and copied your script, per this section of the setup guide, you will need to head to the Admin of your BBWP site under Client Settings > CookiePro.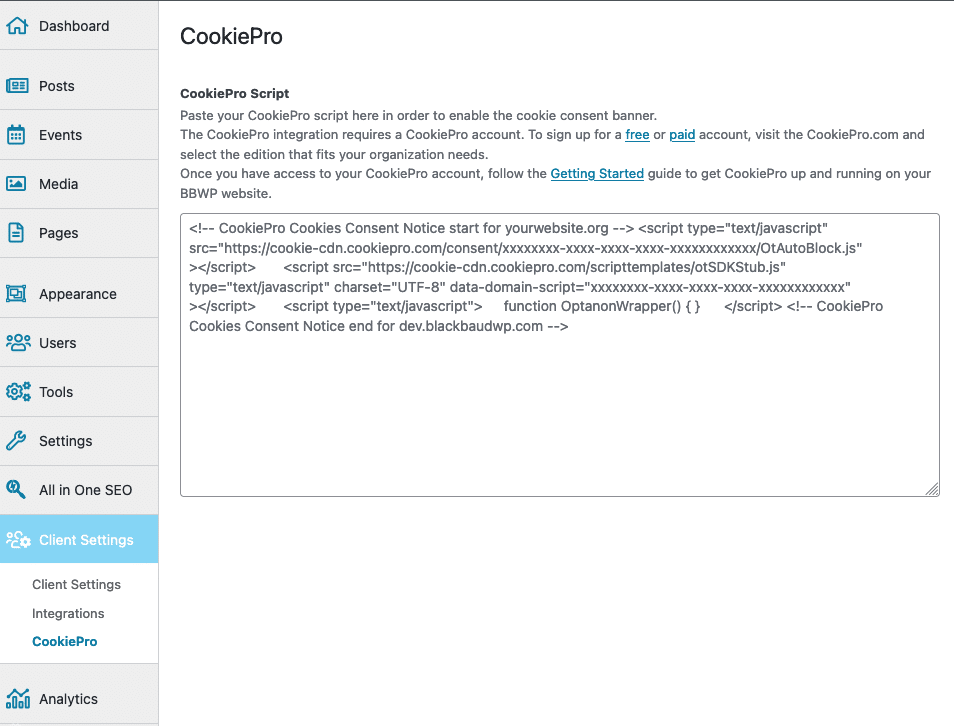 Make sure to save your setting after pasting the script. Your cookie consent banner should now be displaying in the frontend of your website within minutes.

Additional instructions and videos can be found here.