Other articles in this category
Setup a Donation Form in your BBWP site
Step 1: Create a Form
Create a new form by clicking New Form under Forms on the left side of your dashboard. Give it a name that distinguishes it from your other forms. Use something like "Donation Form." For more details please review the article on how to Create a New Form.
Step 2: Build Your Form
Like most forms, slimmer is better. Limit the fields on your form to only the ones you need to achieve the form's purpose.
In the case of a donation form, you probably don't need more than the donor's name, email address, and donation amount. It's safe to ask a few more questions if you think they are necessary but don't get carried away. Limit yourself to no more than six fields.
The most important field on your donation form is the donation amount. Create this form using the Product field under the Pricing Fields tab. Click and drag it into your form.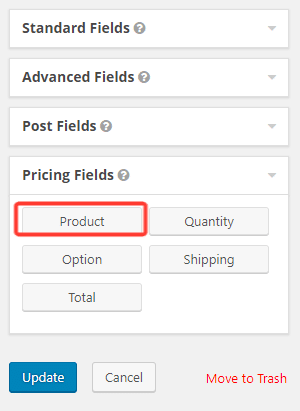 Next, customize the product field.
Give it a name that clearly identifies the field, such as "Donation Amount," and a description that gives donors instructions to use the field, such as "Choose how much you would like to donate."
Under Field Type, change the option from Single Product to either Drop Down or Radio Buttons.
Under Choices, create labels and a few options for donation amounts.
Finally, make sure to check the field as Required at the bottom.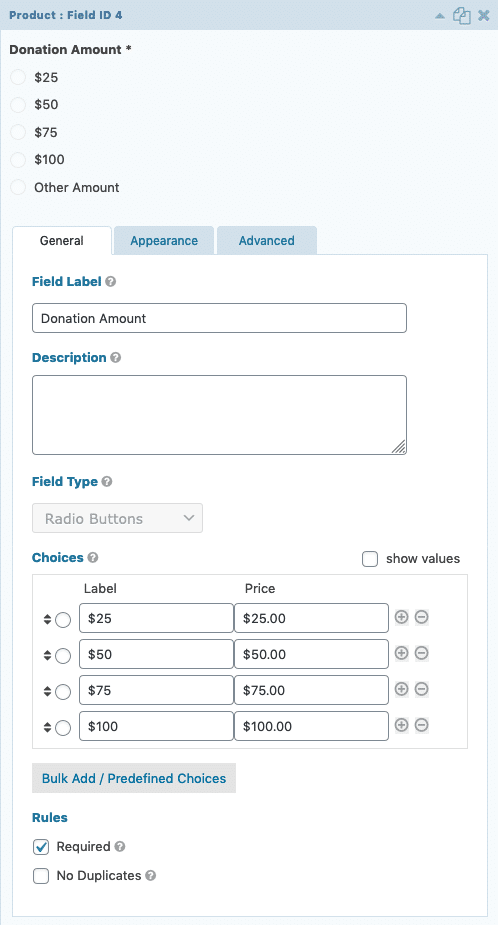 What if your donors don't want to donate any of your recommended amounts? It's smart to give them an option to add their own value.
Add another choice to your product field. Call it something like "Other Amount." It should look like this.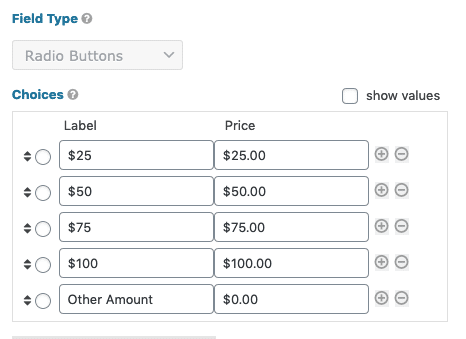 Then add a section Product Field. Give it a name and description. Set the Field Type as User Defined Price.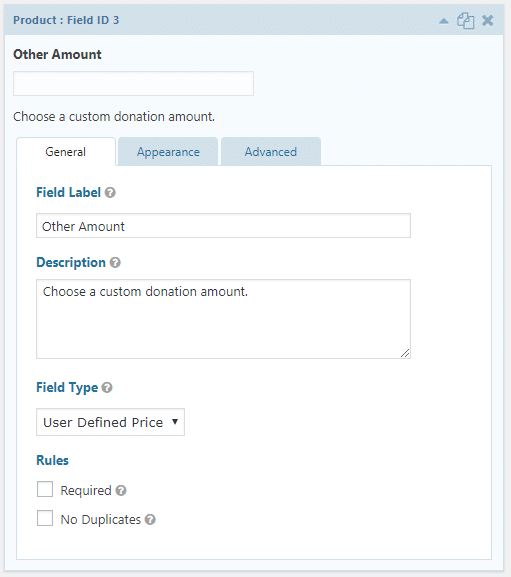 Now we need to set this field so it only appears if the donor selected "Other Amount" in the previous field. This is called conditional logic. Please refer to the Related Article for more information on Form Field conditional logic.
On the Advanced tab, select the checkbox next to Enable Conditional Logic.
Create a rule that reads as follows: "Show this field if all of the following match: Donation Amount is Other."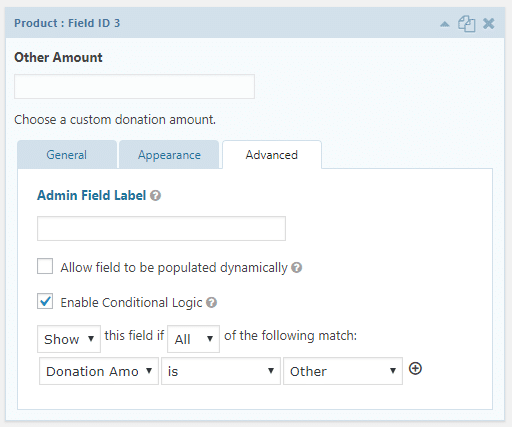 Your donation form is complete.
Step 4: Integrate with BBMS for Payment Processing
Now that your form is ready, it's time to link to your payment processor so you can actually collect money.
Note: BBWP Forms integrates with Blackbaud Merchant Services (BBMS). If you haven't purchased this option, please contact your Blackbaud Consultant or Sales Representative for more information.
Follow the documentation instructions to complete the setup.
Step 4: Add the Form to a Page
You can add your form to any page using the Gravity Form module inside the Blackbaud Builder.
Select the module from the content panel of the builder and drag it onto your page like you would for any module.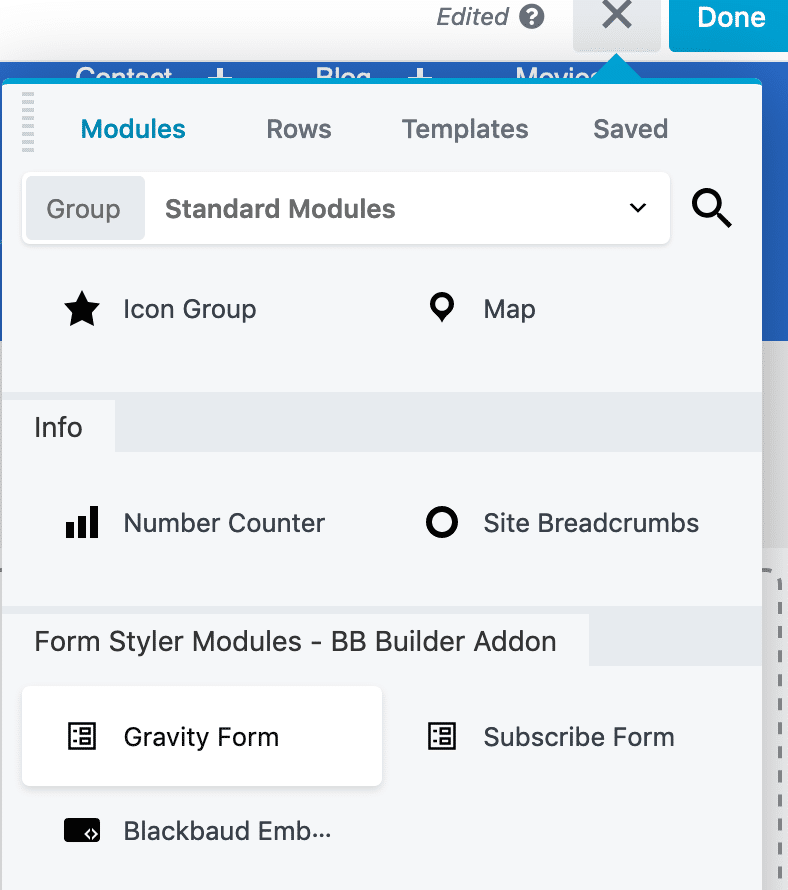 Then select the Donation Form from the "Select Form" dropdown and proceed with configuring and styling your module.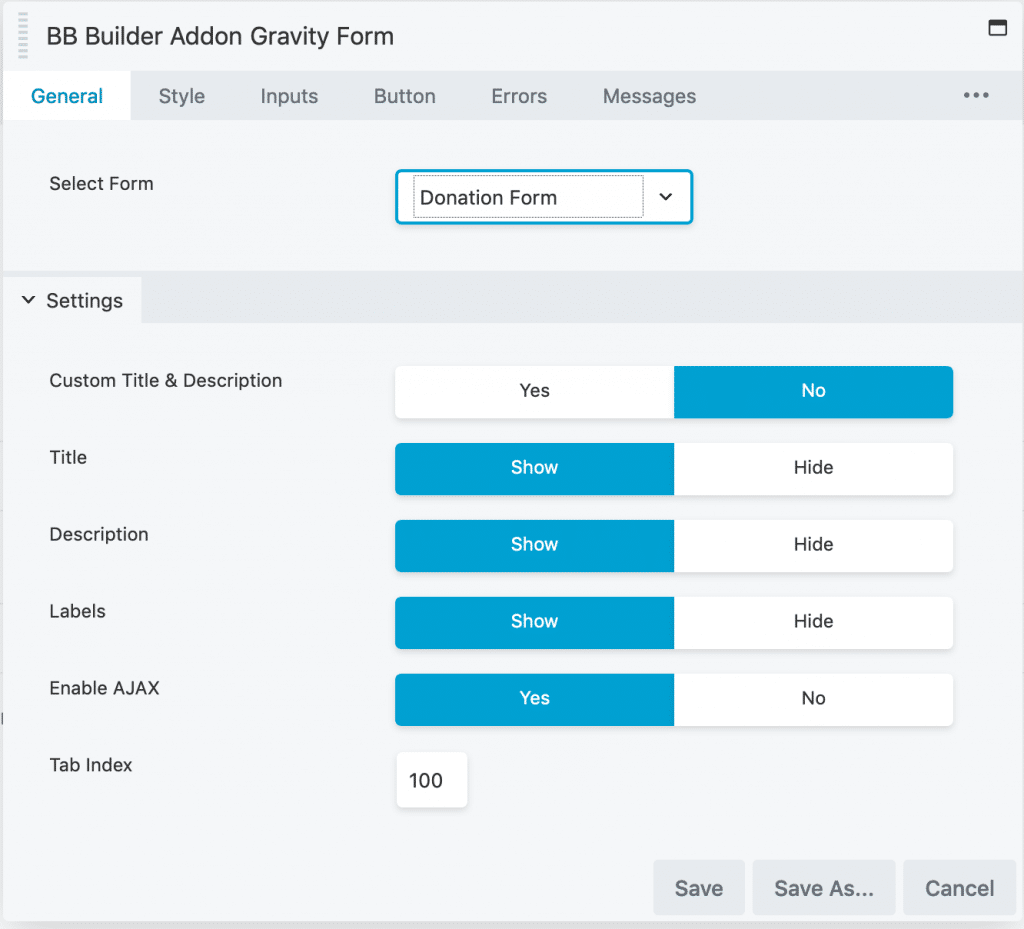 Your form will look something like this (depending on how it was setup and styled):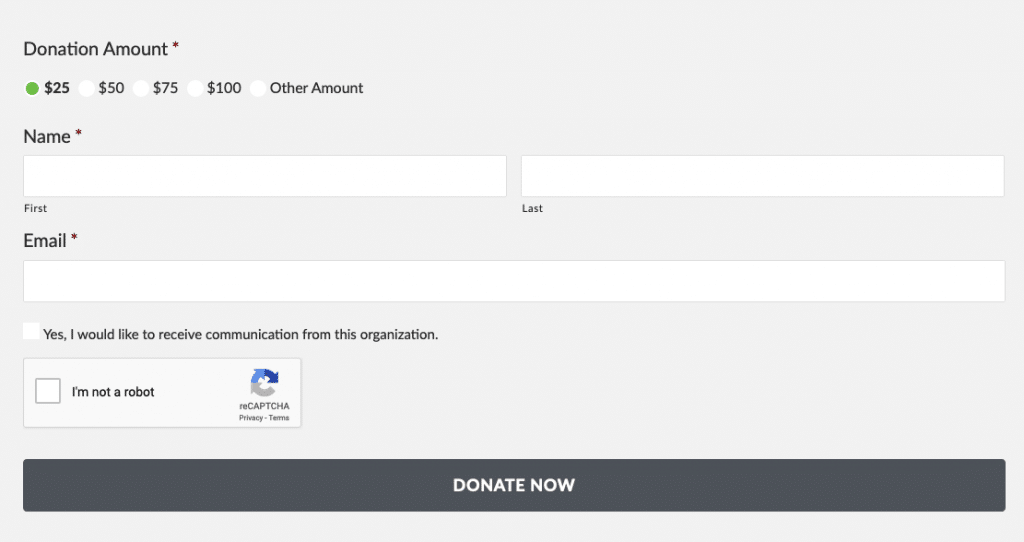 ---
Where to Place Donation Forms
Ideally, your donation form should be all over your website. Every page is a chance to convert a web visitor into a donor.
It's considered best practice to place a donation button on every single page, usually in the header. Use a bright color so your call-to-action stands out.
Here are four critical places to embed your donation form.
1. Beneath Your Blog Posts
If you create blog content, you'll want to include your donation form at the bottom of each post. Since blog content is a common way for people to learn about your organization for the first time, you'll want to prompt them with a donation opportunity.
2. On Your Sidebar
Sidebar donation forms are great to keep your form visible at all times, right alongside the content of every page.
3. Lightbox / Overlay
A lightbox or overlay is a popup that appears when a user presses a button or after a certain period of time. These are useful because they force the user's attention. Yes, they annoy some users, but there's no doubt that they work.
4. Dedicated Landing Page
Even if your entire site is dedicated to collecting donations, it's important to have a clean landing page that makes your entire argument in one place. It should have a clear headline, body copy, testimonials, and your donation form.
What's nice about a landing page is that you can duplicate it and make basic changes for different audiences. For instance, you might change the copy and suggested donation amounts for different segments of your donor list.
Test Your Donation Form
Now that you know how to accept donations through your BBWP website, make sure to experiment with fields, design, and placement. Little changes can lead to big conversions.