Other articles in this category
Setup BBMS Payment Gateway with your WooCommerce Store
In the following article we will show you how to connect your BBWP online store with your BBMS account. It is assumed that you have already registered an account with BBMS. If not please refer to the BBMS documentation.
Step 1 – Authenticate with Blackbaud SKY Connector
In order to access your BBMS account, you first need to register your application with the Blackbaud SKY API. If you haven't gone through this mandatory step, please refer to the Related Article to authenticate via the Blackbaud SKY Connector or refer to the screenshot below.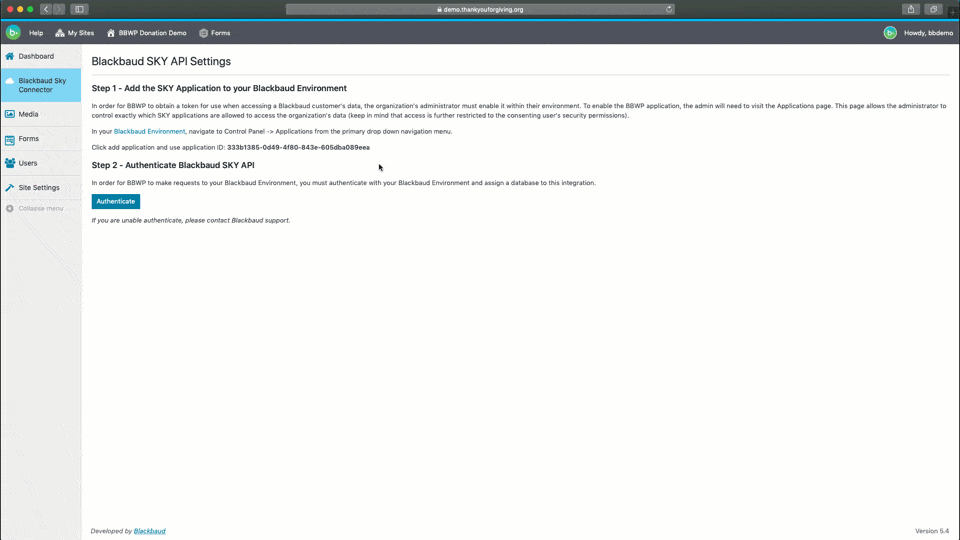 Step 2 – Configure Blackbaud Checkout Payment Gateway
Head over to the Payment Gateway settings under WooCommerce > Settings > Payments
Turn on Blackbaud Checkout by clicking the Enabled toggle and proceed by clicking the Manage button.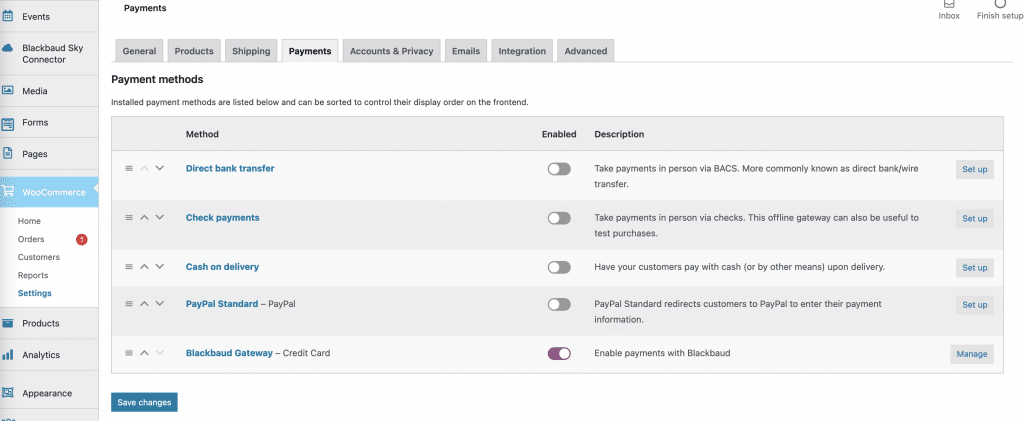 On the next screen, update any of the default settings for Title and/or Description, which will be displayed to users on the checkout page.
Under Merchant Configuration, select the proper setting based on how you have setup you merchant account in BBMS. Usually, you will be able to select a "Test" option for testing on your staging site and a "Live" version to capture real transactions on you production site. Click "Save changes" when you are done.
Your WooCommerce store is now ready to process payments via BBMS.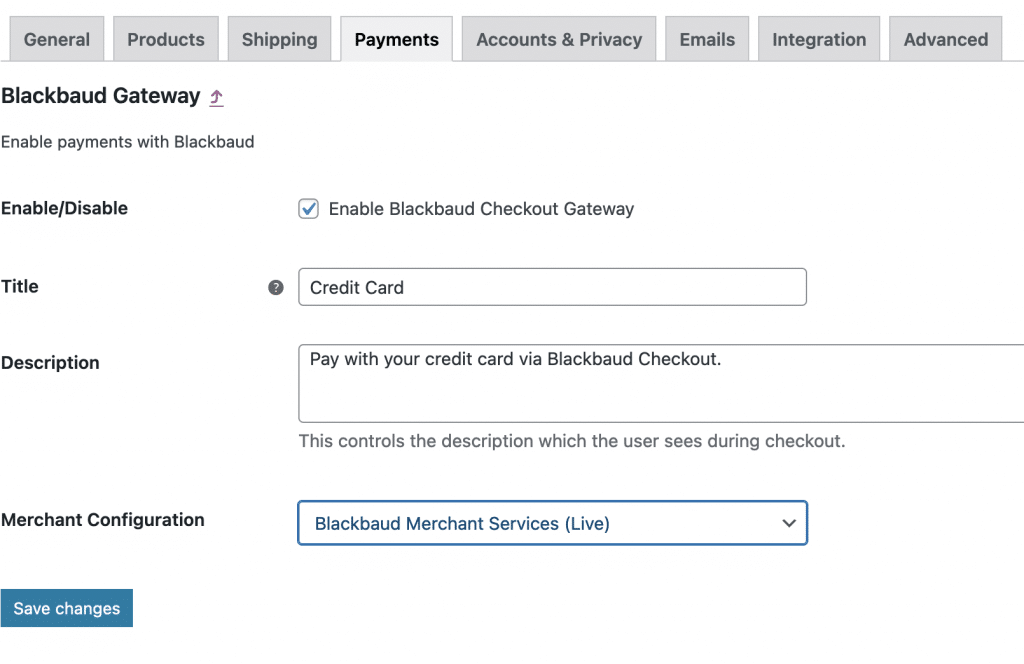 If you don't see any option in the Merchant Configuration dropdown, make sure you have configured this properly in your BBMS account. Please refer to the following articles for further instructions.
How to add an account configuration to a BBMS account.
How to setup a BBMS account for testing purposes.
Optional – Testing your store checkout with BBMS
If you have setup a Test merchant configuration, you can go ahead and test the checkout process of your e-store.
Steps to replicate for testing:
Go to your shop page and add an item to your cart.
Proceed to the checkout page
Fill out the Billing details and other mandatory fields.
Click the "Place order" button at the bottom of the page.
After clicking the "Place Order" button, you should see the Blackbaud Checkout modal appear.
The form should populate fields from the Billing Details such as Name, Email and Address.
You can use the following test Credit Card Info to complete the transaction:
Credit Card Number: 4111 1111 1111 1111
Expiration Date: any date in the future
CSC: any 3 digits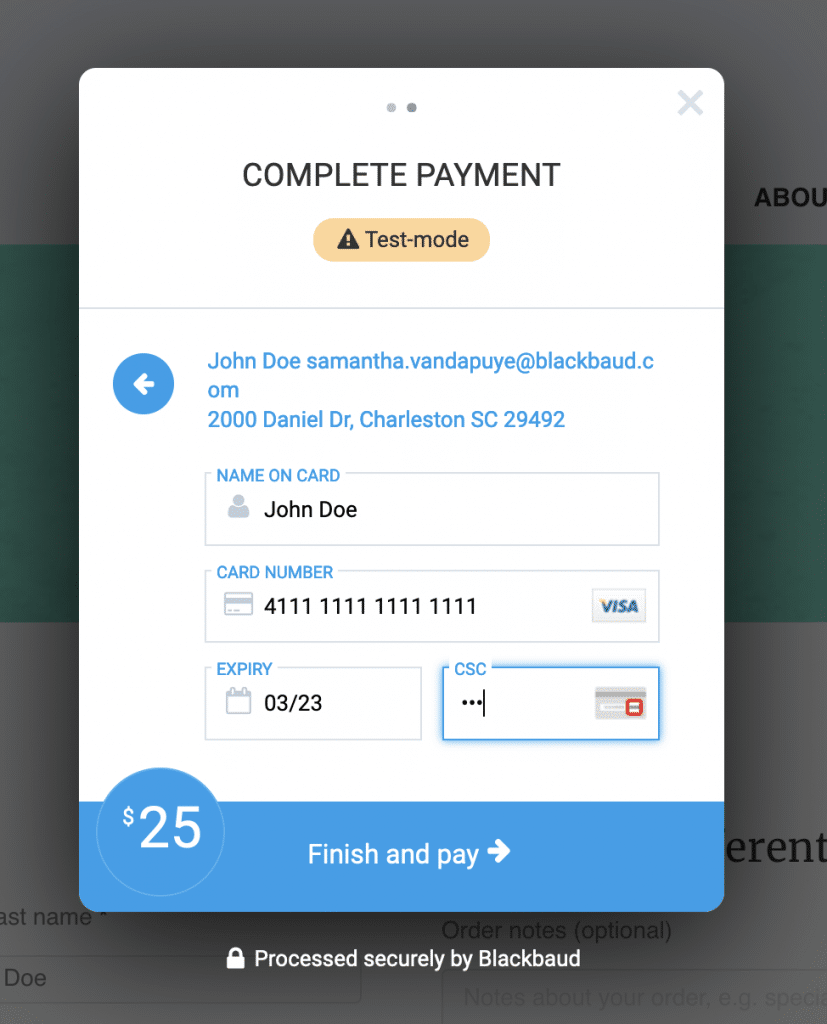 The transaction will be complete after all payment information is added by the user and the "Finish and Pay" button is clicked.
After a few seconds, the transaction will process and the order confirmation screen will load.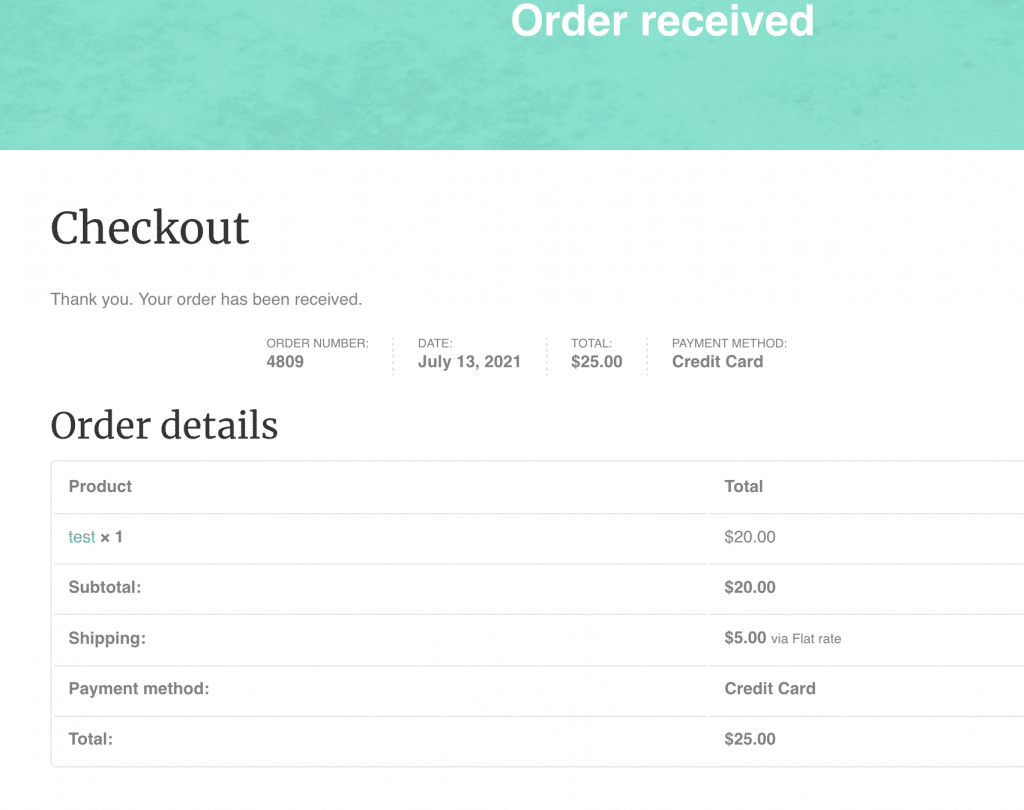 In order to check that the order has been processed successfully, head back to the admin of your site under WooCommerce > Orders.
The test transaction will show up in the list there.