Other articles in this category
Using Events Calendar Saved Content
Say you have a calendar where 90% of the events happen in the same city, or even at the same venue. Customized defaults are an option for the Events Calendar on your BBWP site. Log on to your site's backend, scroll to Events → Settings, and click the Default Content tab.
The top two options allow you to set a Default Venue or Default Organizer, using a dropdown. The dropdown lists all of your published organizers or venues, which are editable from the Venue and Organizer admin pages. If you don't want to use a Default Venue or Organizer, leave the dropdown blank or select No default.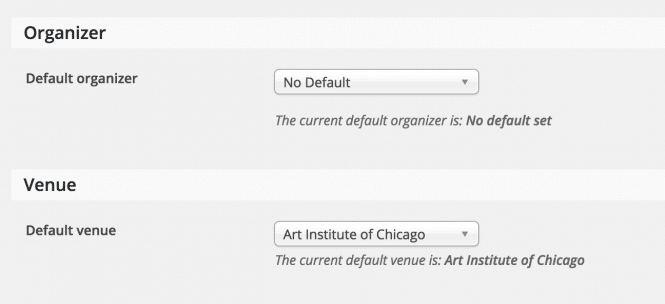 Below the dropdowns are the default address fields. Fill in any of the fields you want to use. Remember that these options will be automatically filled in on your New Event page, but you can still change them there as needed.
If you have a Default Venue applied and add Default Address information, the Default Venue will show on your backend Event pages. If you opt to add a new venue instead of using the default one, the Default Address information will be automatically entered into the new venue fields.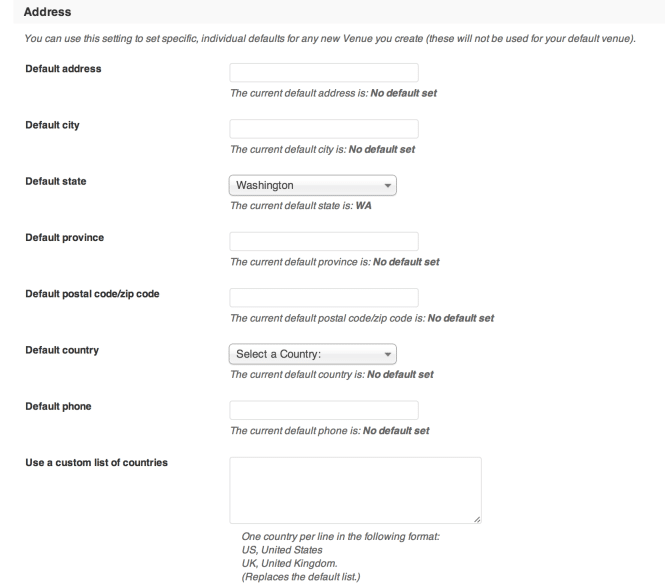 You can add as many or as few custom default options as you want — in the screenshot above, all I've set is a default state (Washington). If we wanted to save even more time on the event creation side, we could set a default address or make a custom list of countries.